that when the rain...rain does not go away...
it does make everything fresh and new
for garden season☺
and that although
I do not have a "green" anything
my husband does ☺
for the simple joy
of glow in the dark accessories
for silly act"ing"
for family fun
(that hot dogs (ew...) are not our daily "manna"!)
and the
countdown
to summer...
for Wii "hula" ☺ (pic possibly to come)
and not to forget... for wonderful
"feet"icures!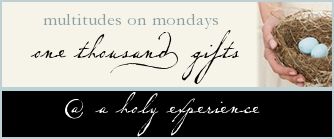 and speaking of summer...